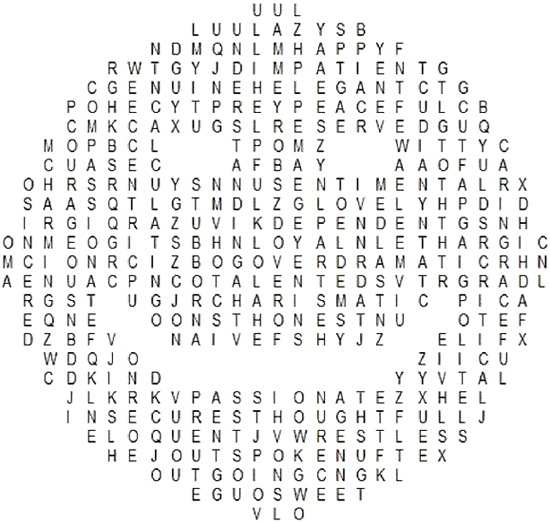 Those on Facebook and other social media sites might be familiar with the title of today's article.

They would be accompanied by the equivalent of a word-find full of words like: wealth, happiness, power, love and joy.

The word that pops out first says something about you.
What would happen if we viewed today's readings in a similar fashion?

What word pops out at you?

The word that popped out first when I read the readings was "Sin."

This was problematic for several reasons but I persevered and reread the readings.
The next word that emerged is the one I would choose for my status/liturgical note/blogpost.

That word is
relationship
.
I remember hearing something

in a religion class about sin being the breaking of a relationship with God or another person.

So I googled the Catechism of the Catholic church and under "Mercy and Sin" found this:
Sin is an offense against reason, truth, and right conscience; it is failure in genuine love for God and neighbor caused by a perverse attachment to certain goods. It wounds the nature of man and injures human solidarity. It has been defined as "an utterance, a deed, or a desire contrary to the eternal law."
121
Catechism of the Catholic Church #1089
My original plan for this week's article was to interview my niece who had just returned from a

two week mission trip to Kenya.

Erica was part of a group of students and graduates of Lasalle University teaching at a Catholic boys high school. (Ironically names St.Mary's.)
I was excited to hear that Erica had an experience of epic proportions.

What really interested me is that she had 2 equally powerful experiences at Sunday mass.

Like many of her peers, Erica grew up going attending church on a weekly basis but was losing sight of it's relevance in her life .
My original goal was to get Erica's insight on why the church was no longer reaching her.

What was the church (or people like me) doing wrong?
After speaking with Erica, I realized that I was asking the wrong question

It wasn't a matter of the shortcomings (or sin) of the church.

The disconnect was one of relationship.
Erica was happy, no, 'overjoyed"

to sit through a 2 hour mass because of her relationship with the boys.

For 6 days she taught (ministered) to them but on Sunday they (the singers and dancers at mass) ministered to her.
When I think of my conversation with Erica, I am touched by the sheer beauty of her passion for serving these boys in Kenya.

It is a passion that I often see in people her age.

It makes me think of the words of the disciples who met (were in relationship) with Christ on the road to Emmaus.
Did not our hearts burn within us while he talked with us on the road, while he opened to us the scripture?
E-mail me or post to my blog if you'd like to share your reactions or story.
Blessed to be serving at St. Mary's,